Many people have questions about testamentary trusts and are not sure what they are or how they are different from the more common living trust. This post will explain what a testamentary trust is, how it differs from the living trust, and how to create one.
What is an inter vivos trust?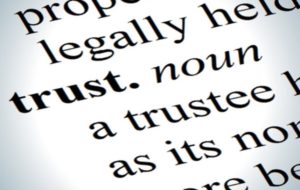 If you have heard the term "inter vivos trust" and wondered what it is, you're not alone. This simply refers to a trust that is created "inter vivos" or "during life", and is more commonly referred to as a living trust. A revocable living trust forms the basis for one's estate plan.
What is the difference between a living  trust and testamentary trust?
The word "testamentary" is defined as relating to or bequeathed through a will.  Thus, the name "last will and testament."  So a testamentary trust is a trust that is created in a will. That is, the will itself leaves your assets to a beneficiary in trust instead of outright.
So one of the primary differences between an inter vivos trust and a testamentary trust is when and how it is created.  A living trust is created by you during your lifetime and is used to hold your assets now so that when you die the trust assets can avoid probate.  The terms or provisions of a testamentary trust are written in a last will and testament, and is often referred to as a "trust by will." But the testamentary trust is not technically created until your assets are probated and distributed from the probate estate into the testamentary trust. So the testamentary trust is not really created until you are dead.
Is a testamentary trust revocable or irrevocable?
Since the testamentary trust is set up by your will and the trust is not actually established until after you are dead, a testamentary trust is irrevocable.  You are no longer alive to revoke or amend the trust and no one else has the authority to change the trust terms.
However, you can amend your will any time you wish, assuming you are competent to do so. That means as a practical issue, you can change or "revoke" the testamentary trust by amending your will.  Of course, the trust in the will, as explained above, is not actually established yet, but you can still change its terms before you die.
Testamentary Trust & Probate
The elephant in the room is something that was mentioned above.  A testamentary trust is only created at the end of the probate process.  Your will that creates the trust must be probated.  And in Nevada, probate is expensive and takes many months.  In some states, the probate process is a simple unsupervised process that takes little time and is therefore not very costly.  But that is not the case in Nevada.
So if you believe that your heirs or beneficiaries would benefit from a trust, and you are going to create a trust for them, you just as well create the living trust so that probate can be avoided.  Now this requires that the living trust be fully funded during life.  You don't want to rely on a pour over will to pass your assets to the trust upon death through the probate process. This would be no different than the testamentary trust.